Categories

~FREE KAYAK TOURNAMENT SIGN-UP~
*FREE KAYAK TOURNAMENT SIGN-UP*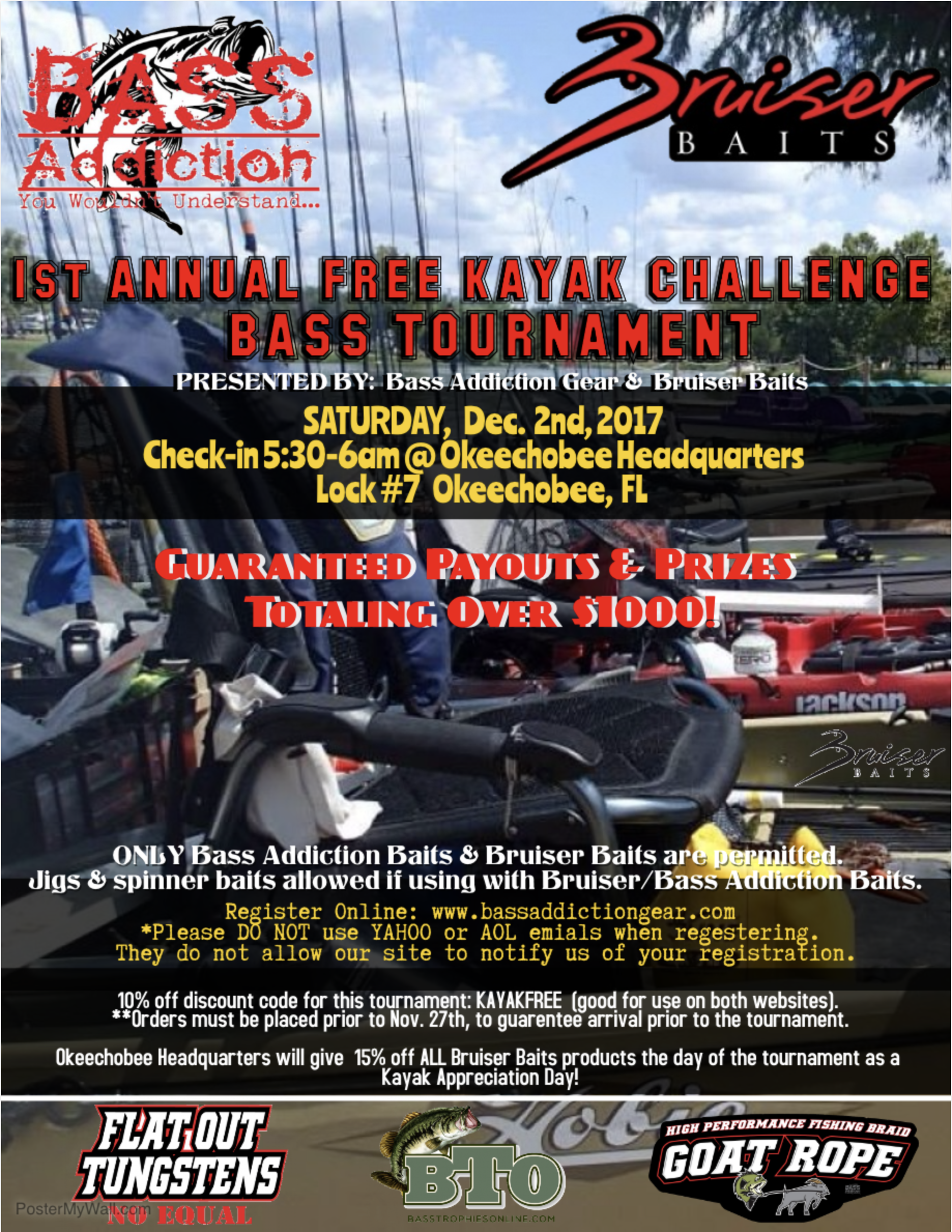 BASS ADDICTION GEAR AND BRUISER BAITS HAVE JOINED TOGETHER TO BRING YOU OUR 1ST ANNUAL FREE KAYAK CHALLENGE BASS TOURNAMENT ON Dec. 2, 2017. IT WILL BE HELD IN OKEECHOBEE, FL AT OKEECHOBEE HEADQUARTERS.
GUARANTEED PAYOUTS & PRIZES TOTALING OVER $1,000!!
~RULES AND CONDITIONS~
ONLY BASS ADDICTION GEAR AND BRUISER BAITS PRODUCTS MAY BE USED. TO ENSURE YOU GET YOUR
BAITS ON TIME, PLEASE ORDER BAITS AT BRUISERBAITS.COM OR BASSADDICTIONGEAR.COM BEFORE
NOVEMBER 26TH 2017. THIS INCLUDES: ALL ARTIFICIAL BAITS PRODUCED BY BASS ADDICTION GEAR AND BRUISER BAITS, BASS ADDICITON'S HARDCORE JIGS. CONTESTANTS ARE PERMITTED TO USE THE
LINE, JIG WITH OUR TRAILER BAITS OR SKIRTS OF THEIR CHOICE.
**REMOVAL OF ANY OTHER PRODUCTS IS NOT REQUIRED, BUT THE USED OF BASS ADDICTION GEAR,
BRUISER BAITS AND MUSTAD HOOKS WILL BE STRICKLY ENFORCED**
1. LIMIT: (5) FISH - 12" MINIMUM LENGTH.
2. NO STRINGERS ARE PERMITTED.
3. ANY TEAM LATE FOR CHECK IN WILL BE DISQUALIFIED.
4. TACKLE/EQUIPMENT REQUIREMENTS: ONLY BASS ADDICTION BAITS, BASS ADDICTION HARDCORE
JIGS AND BRUISER ARTIFICAL BAITS ALLOWED, YOU CAN USE OUR BAITS AS TRAILERS ON YOUR
JIGS OR SPINNER BAITS. ONLY CASTING, SPIN-CASTING, AND SPINNING RODS ARE PERMITTED. NO ROD OVER 8'6" WILL BE ALLOWED. NO FLY RODS, NO TROLLING, AND NO AIRBOATS ALLOWED EITHER.
5. NO RADIOS OR CELLULAR PHONES MAY BE USED DURING THE TOURNAMENT FOR THE PURPOSE OF
EXCHANGING OR RECEIVING FISHING TIPS OR INFORMATION.
6. USE OF ANY AND ALL ALCOHOLIC OR ILLEGAL SUBSTANCES IS STRICKLY PROHIBITED.
7. ALL CONTESTANTS &/OR PARTICIPANTS AGREE TO SUBMIT TO A POLYGRAPH TEST. ALL
CONTESTANTS THAT RECEIVE ANY REWARDS WILL BE SUBJECT TO A POLYGRAPH TEST. FAILURE TO
PASS THE TEST WILL RESULT IN DISQUALIFICATION.
8. PROTESTS: ANY PROTEST MUST BE MADE IN WRITING AND GIVEN TO THE DIRECTOR OF THE
TOURNAMENT PRIOR TO 15 MINUTES AFTER THE FINAL BOAT IS CHECKED IN. ANY AND ALL
DECISIONS MADE BY THE TOURNAMENT DIRECTOR ARE FINAL.
*OTHER RULES OF TOURNAMENT WILL BE DISCUSSED THE MORNING OF THE TOURNAMENT.

~ LIABILITY RELEASE: IN SUBMITTING THIS APPLICATION AND/OR PARTICIPATING IN THIS
TOURNAMENT YOU AGREE TO ABIDE BY THE RULES SET FOR THIS TOURNAMENT. YOU ALSO WAIVE AND
RELEASE BASS ADDICTION GEAR INC., BRUISER BAITS FL. INC., HOSTS, AGENTS, THE
VENUE, AND ALL OTHER CONTESTANTS/PARTICIPANTS FROM ANY AND ALL CLAIMS OF INJURY AND/OR
MATERIAL AND BODILY DAMAGE THAT OCCURS IN CONNECTION WITH THIS TOURNAMENT.
~DUE TO YAHOO & AOL'S SECURITY YOU MUST USE AN EMAIL ADDRESS OTHER THAN YAHOO OR AOL TO SIGN UP~
~ONLINE ENTRY FORM~