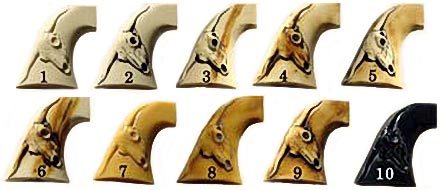 Color Key: 1-white, 2-Ivory, 3-Ivory streaked, 4-Ivory Antique, 5-Ivory Reverse Antique, 6-Ivory Heavy Antique, 7-Old Ivory, 8-Old Ivory Antique, 9-Old Ivory Heavy Antique, 10-Black.
ANY OF OUR GRIPS CAN BE ORDERED IN JOHN WAYNE YELLOW, IF YOU WANT THEM IN JOHN WAYNE YELLOW, PLEASE MAKE THAT KNOWN IN THE COMMENTS SECTION OF YOUR ORDER.
Buffalo Brothers manufactures an extensive variety of custom handgun grips for Remington, Ruger, Colt SAA and clones, Schofield, and many more popular single action revolvers. We also carry a large assortment of stag grips.
Many or our designs are copied from a variety of old grips from the 30's, 40's and 50's. Our selection also features many original designs.
In order to make your shopping easier, we recommend that you read this page to learn about the many ways you can order our custom grips.
Style and Finish:
Our industry leading grips are available in four main colors: White, Ivory, Old ivory and Black. Each color is available in variations of streaking or antique appearance. In order to add even more personality to your custom grip, you may order it with or without cracks.
Fitting Information:
All of our grips are semi-custom, manufactured at our facilities to close specifications in order to insure a good fit to your gun. Some sanding and drilling will be required to fit our grips. All grips are shipped as one-piece grips unless the gun specifically requires screw mounting. For those who are not do-it-yourselfers, there is often someone in your area who can fit those grips for you. Contact us for further details.
Guarantee:
All our grips come with a 100% satisfaction guarantee. You can return them for any reason (i.e. color, shape, etc.), as long and they have not been altered. Grips returned in the same unaltered condition, suitable for resale, can also be exchanged. Grips paid for by credit card of PayPal are subject to our standard 10% restocking fee.
Additional Information:
While our selection consists mainly of cowboy action shooting products, we intend to branch off into products for automatics, Smith & Wesson's, and home protection guns.
We have been making grips since the 1990's. Our grips are made of polyurethane (also known as resin), which we treat to get the finished color and antique look that our grips are renowned for. Over five years of research and development went into our grips before they were introduced to the marketplace.