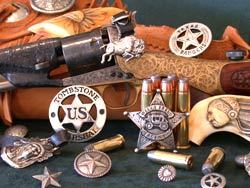 Buffalo Brothers Cowboy Store Pistol Grips Badges Fobs Conchos Buttons
Buffalo Brothers Cowboy Store is your source for old west style pistol grips for your Colt Single Action Army, Colt 45 clones, Ruger, Smith and Wesson, Schofield, Cimmaron, Bisley, Colt Navy and 60 Army, Derringer, Davis, Bond, Heritage and Pocket Pistol. We also make reproduction badges and conchos, watch fobs and buttons. Buffalo Brothers Cowboy Store makes all items right here in the USA. Have us make your custom and club badges and conchos.

Buffalo Brothers Cowboy Store has outfitted many SASS shooters guns with our pistol grips, badges Conchos and buttons.
PLEASE NOTE: WHEN YOU PLACE YOUR ORDER, YOU WILL HAVE 2 OPTIONS FOR PAYMENT, PAY IN ADVANCE OR PAYPAL. IF YOU CHOOSE PAY IN ADVANCE, YOU WILL NEED TO CONTACT ME TO GIVE ME YOUR CREDIT CARD NUMBER OR MAKE OTHER PAYMENT ARRANGEMENTS. IF YOU WISH TO PAY ONLINE AND USE YOUR CREDIT CARD, YOU CAN DO THAT THROUGH THE PAYPAL PORTAL.