ProShop - Shipping & Delivery
Local Pickup/Delivery
Pickup
Impact Action Sports offers free local pickup at all sponsored Fields and Events. Place your order over the phone or online, and we'll cordinate with you to find the closest time and place for you to pick it up.
Delivery
Impact Action Sports offers $10 delivery to anywhere in the Portland Metro area. Save time and gas driving across town, and have your order delivered right to your door.
Shipping
When will my order ship?
When you shop at Impact Action Sports, you get fast service. All in-stock orders with verified addresses placed before 3pm PST will ship out on the same day (orders placed on the weekend will ship on Monday), and you will be emailed a tracking number by the following morning. The only exception to this is on certain Mondays, when the volume of orders placed over the weekend may delay some orders until Tuesday. If you need to have an order shipped out on Monday, please call us at 503.213.3230 by 3pm PST. If there are any issues with your order, you will be notified immediately and given the proper instructions on how to expedite your order.
Ground
All packages ship via USPS Priority or UPS Ground shipping. Packages can be shipped anywhere in the 50 US states (including Alaska and Hawaii), and will be delivered on Monday through Friday. No Ground deliveries are made on Saturday, Sunday or Monday. No Ground packages will be delivered on weekends. Expect Ground service times to comply with the following map.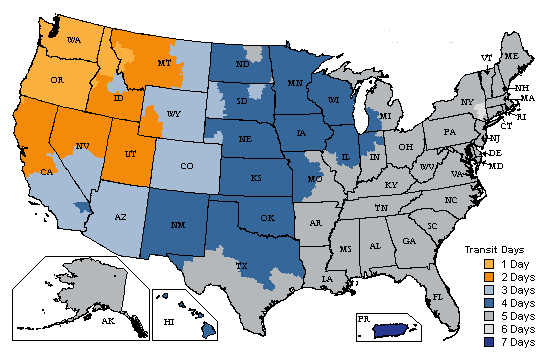 For example: if you place your order from Florida on Sunday, your order should be shipped out on Monday and delivered on that Friday. Ground allows for one additional day for delivery to remote locations--Napa Valley, for example. Orders placed on weekends and holidays cannot be shipped until the next business day (typically Monday through Friday).
Expedited Service
Overnight & Air shipments are available for an additional charge. Call for more information.
Impact Action Sports, LLC
503.213.3230 | info@impactactionsports.com
Follow us on: